Website Design & Development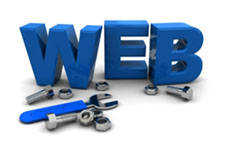 We can build a website to help improve your company's presence on the Internet. A website is the culmination of many components , e.g. Design, Graphics, Static Pages, Database , etc. All our website project are hand-coded with content features such as market & competition research, custom design, fast-loading HTML, cross-browser compatibility, site map, and may other componets. We can create sites in ways so that non-technical people can update content on regular basis. Moreover, we can provide continuous maintenance so that future security needs are met on time and in most cases security incidences are avoided.
We develop all types of websites: brochure websites, large websites, custom database-driven web applications, e-commerce websites and everything in between. We give our customer more options to consider.


Some of Our Website Packages:
Small Custom Brochure Website
Professional Consultation
Custom Website Design
4-8 pages
Photos & Graphics
Custom Web Contact form
Spam Protection CAPTCHA Service
Custom 404 page
Site map
Website Analytical Services
Custom database-driven Website
Professional Consultation
Custom Website Design
Custom Animations
8-16 pages
Photos & Graphics
Custom Web Contact forms
Spam Protection CAPTCHA service.

One E-Commerce System or
One Content Management System or
One Lead Management System

Custom 404 page
Site map
Website analytical service
Large Custom Web application and/or database driven Website
Professional Consultation
Custom website design
Custom Animations
16-22 pages
Photos & Graphics
Custom Web Contact forms
Spam protection CAPTCHA service.
E-commerce
Content Management System
Lead Management System
Interactive Location Map
Custom Calculators
Custom Web Applications
Custom 404 page
Site map
Website analytical